Facebook Fan Pages
Posted
"Why use social sites like Facebook or Blogs to promote my business?"
The answer is simple:  Social Media has the built in advantage of sharing.  Thanks to their inherent viral features, social media sites allow users to instantly spread the word about YOUR business.  Savvy merchants can leverage these features to not only promote their business, but to create viral campaigns – campaigns that are inexpensive, green (no paper required), and quickly published.
Why does your business need a Facebook Fan Page?
Facebook Fan Pages are Public

. While most of Facebook is behind a login, fan pages are not, which means they are indexable by the major search engines. This means more exposure for your product or service!

News Feed

. Need we say more? Each time a user becomes a fan, that action is published in the news feed of all their friends. Free. Viral. Marketing.

Facebook Mini Sites!

. This is one of the most exciting ways to leverage your fan page.  We can build you a customized wordpress-powered mini site – embedded directly into your facebook fan page.  You can then easily use your wordpress control panel to update your site, and your post updates will automatically feed to your fan page minisite tab.  Restaurant owners can post daily specials, bands can post upcoming events or even video, real estate agents can update listings – the possibilities are endless!  We just recently created a new mini facebook site for Good Life Catering and Meals to Go – Check them out on Facebook to see their mini site complete with Lunch Specials, Online Menus, and even a text coupon to reward their Facebook users! http://www.facebook.com/goodlifecatering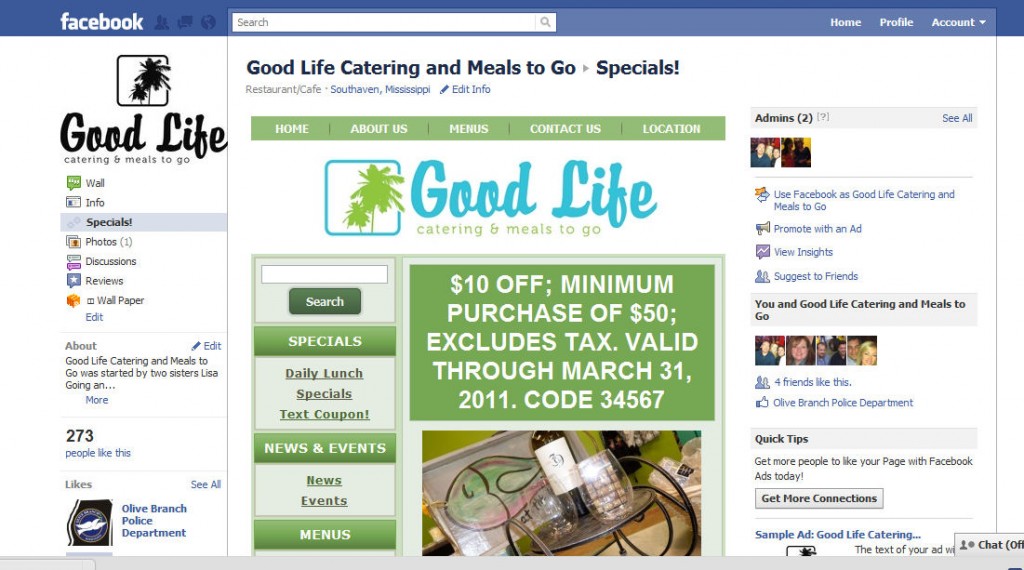 Contact us today to see how Savvy Design Divas can help you engage your customers by helping you set up customized Facebook Fan Pages, Blog sites and more!
Posted from Olive Branch, Mississippi, United States.